Charcoal Briquetting Machine Process Introduction
BBQ charcoal briquetting machine is also known as Coal Powder Briquette Machine or charcoal extruder. With varied moulds, our machines can be used to extrude charcoal stick and biomass stick of different diameters (ranging from 15mm to 65mm) in cylinder or square shape without hole. Charcoal/coal powder and charcoal dust are both appropriate materials. For some materials with poor viscosity, binder is needed in the briquetting process for better shaping.
Charcoal Powder Briquette Machine Introduction
Charcoal powder briquette machine is also called carbon powder briquette machine, carbon powder extruder, which is a charcoal briquette forming machine whose raw material is firstly carbonized. The biomass materials including sawdust, wood shavings ,rice husk, peanut shell, bamboo shavings, etc are firstly processed in the carbonization furnace for 8-12 hours. After they are fully carbonized, the carbon powder will be sent into briquette machine to form into different shape charcoal briquettes. Charcoal briquettes can be used as industrial carbon, home heating carbon, BBQ charcoal, etc.

Charcoal Powder Briquette Machine Features
1. The material is first to be carbonized, then made into charcoal briquettes which makes the flowchart more simple.
2. The service life of machines' spare parts becomes much longer: from 40 hours-4000 hours.
3. 60% electricity are saved. 
4. Easier operation
5. Carbon quality has greatly improved.
Video of this charcoal briquette machine while working

We're charcoal manufature and dealer in Vietnam, charcoal from many source will be sale at cheapest price here. If you wanna find charcoal or charcoal briquettes in Vietnam, please contact me by email at: nhatkhoa   @  gmail.com  ( please delete the space) or call me at +84937711777
 We curently making charcoal powder briquettes at lowest price only $300 per tons FOB Hochiminh city, Vietnam and can suppy over 300 tons per month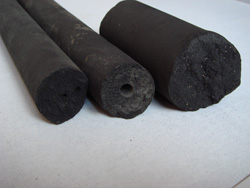 If you need sawdust briquettes charcoal, i still can find supplier, however, price would be over $600/ton FOB
we can also sell wood logs charcoal at $550/ton please look at below pictures
ghe chỏ than
Than bạch đàn nguyên cây
Than vụn nhỏ
Than nhãn
Than tạp bể
Than vỏ cây
than đước
1.1 Introduction
The raw material comes from small size waste charcoal broken in storage or while
transportation, or comes from charcoal chunk after biomass burned. With charcoal
press machine, the waste charcoal chunk can be made into different shape of
charcoal briquettes (small round, cube shape etc) to be recycled as fuel or for BBQ
use etc. Before briquetting, Binders are used, and the yield will be 100% of charcoal
dust / chunks / waste pieces of charcoal.
Operating
Cylinder Shape
(30,40,50mm)
Hexagon Shape Briquette
(50mm)
Square Shape Briquettes
(50mm)
Fingure Charcoal Briquettes
(22mm)
1.2 Process Flow For Charcoal briquetting Plant (for reference)
Raw Material→ Grind milling → Mixing with binder → Conveyor →charcoal press
→Dryer (Not available) →Packing(Not available)→ Storage
This machine can be used to extrude charcoal stick of different diameter (diameter range:
15-65mm) in cylinder or square shape with or without hole through different moulds from
charcoal dust. But you have to add binder into the charcoal dust to extrude briquette.
Technical data and price:
Output:150 kg/h(for diameter 30mm briquette)
200 kg/h(for diameter 40mm briquette)
250 kg/h(for diameter 50mm briquette)
Power: 7 kw (Main motor 5.5 kw + Briquette breaker 1.5kw)
Diameter of finished charcoal stick: 22-65mm
Overall size: 1300*800*1600mm
Packing size:1550*1310*1360mm
Weight: 800KGS
Price: USD4000 FOB CHINA MAIN PORT
Tear and Wear Parts
One year Tear and Wear Parts
Briquette size 30- 50mm(diameter or diagonal)
Total cost: USD660 (Including the following items)
(1) ** Inner wear sleeve **
Life of Inner wear sleeve: 10-20 Tons
Material: wear-resistant manganese steel
Price: USD 25/pcs *2pieces=USD50
(2) ** Forming/MouldingٛCylinder **
Life of Forming/MouldingٛCylinder:3
month
Price: USD 170/pcs * 2pieces=USD 340
(3) ** Propeller/screw **
Price: USD 90/pcs * 3 pieces= USD270
Material: carbon steel conditioned by
carburizing and quenching.
Front part of screw made of high
temperature wear-resistant alloy
Payment Terms
50% down payment by T/T, 50% balance by T/T
before shipping
Delivery Time: 20-30 days after getting first down payment